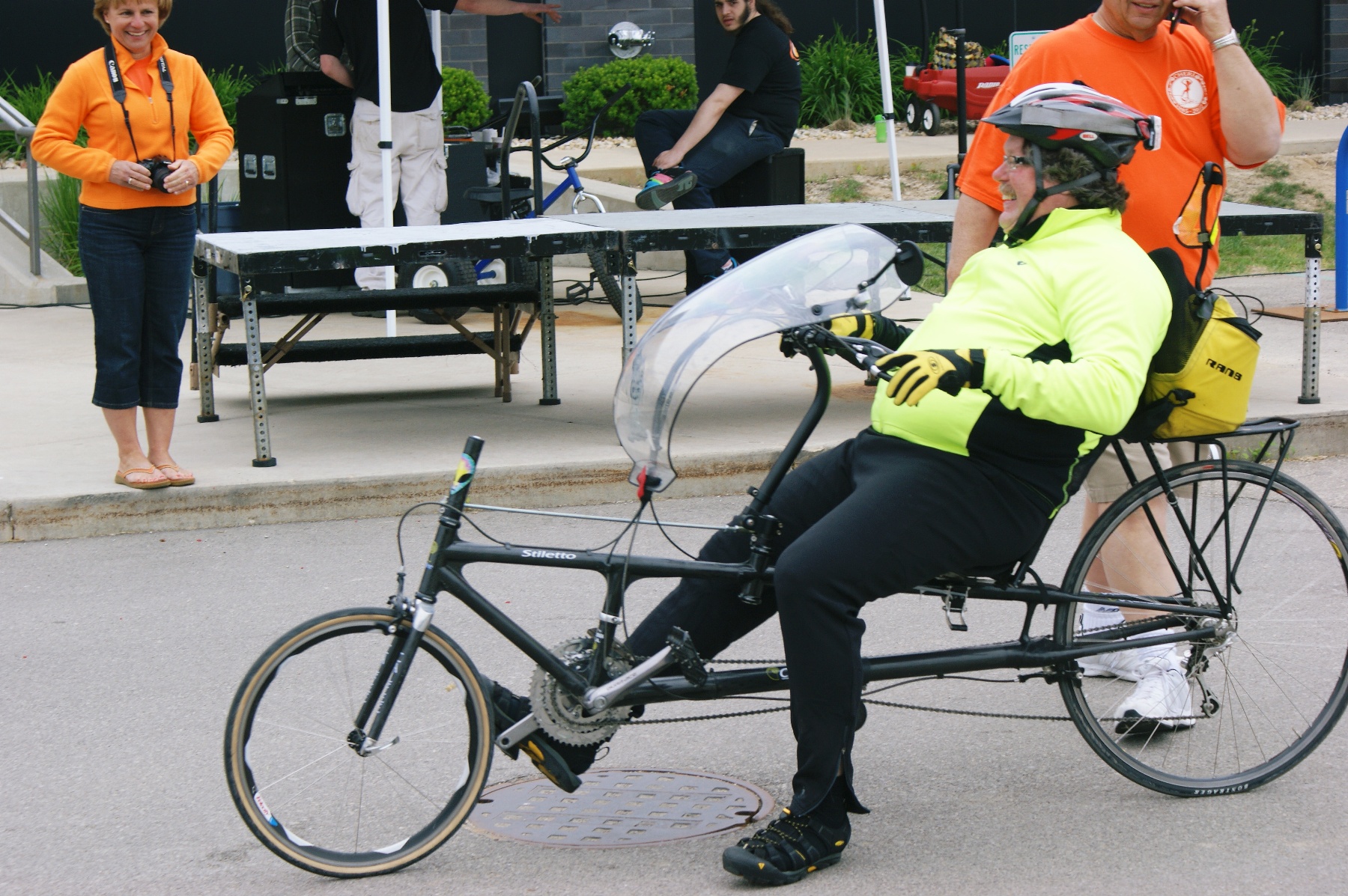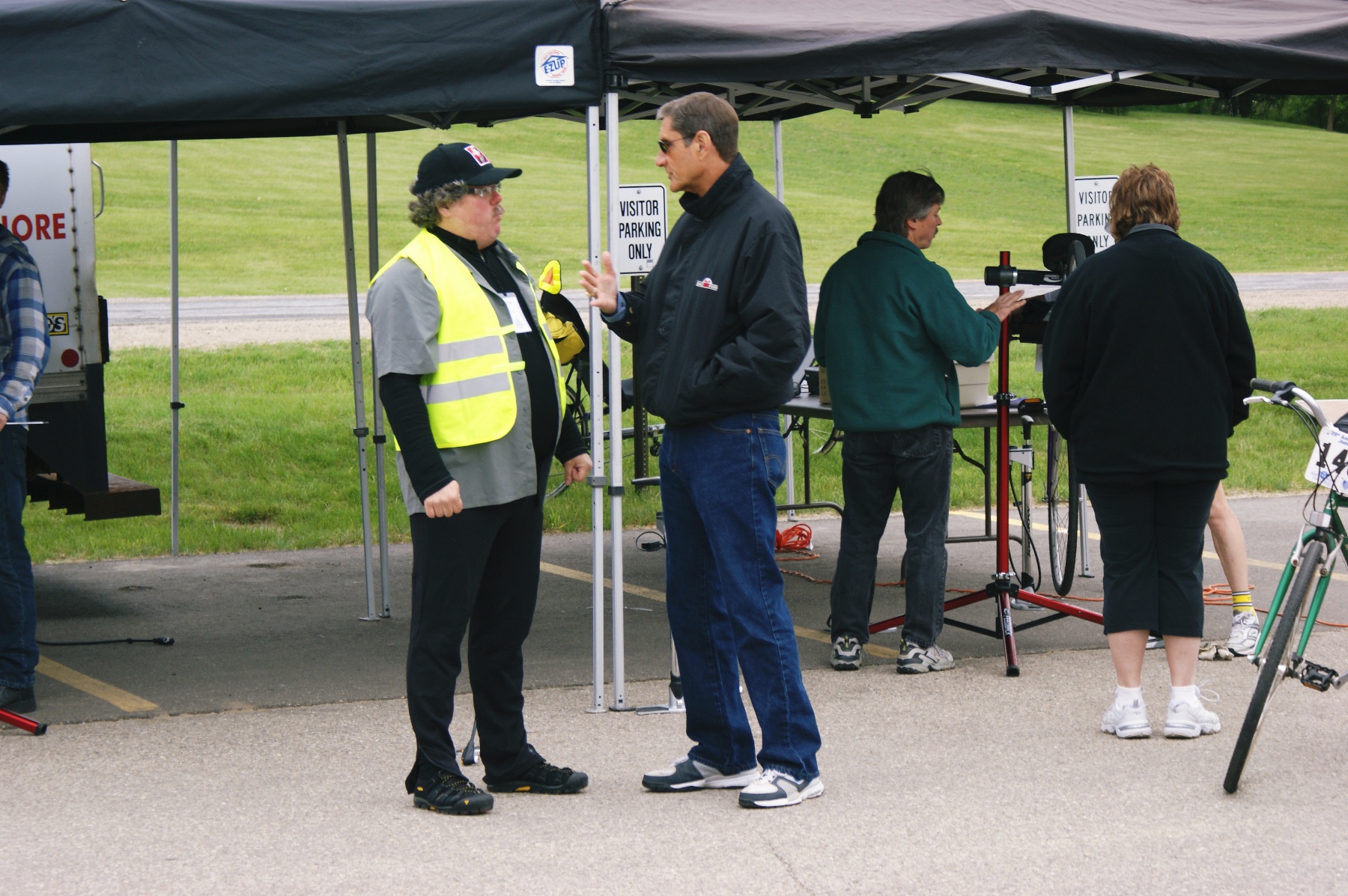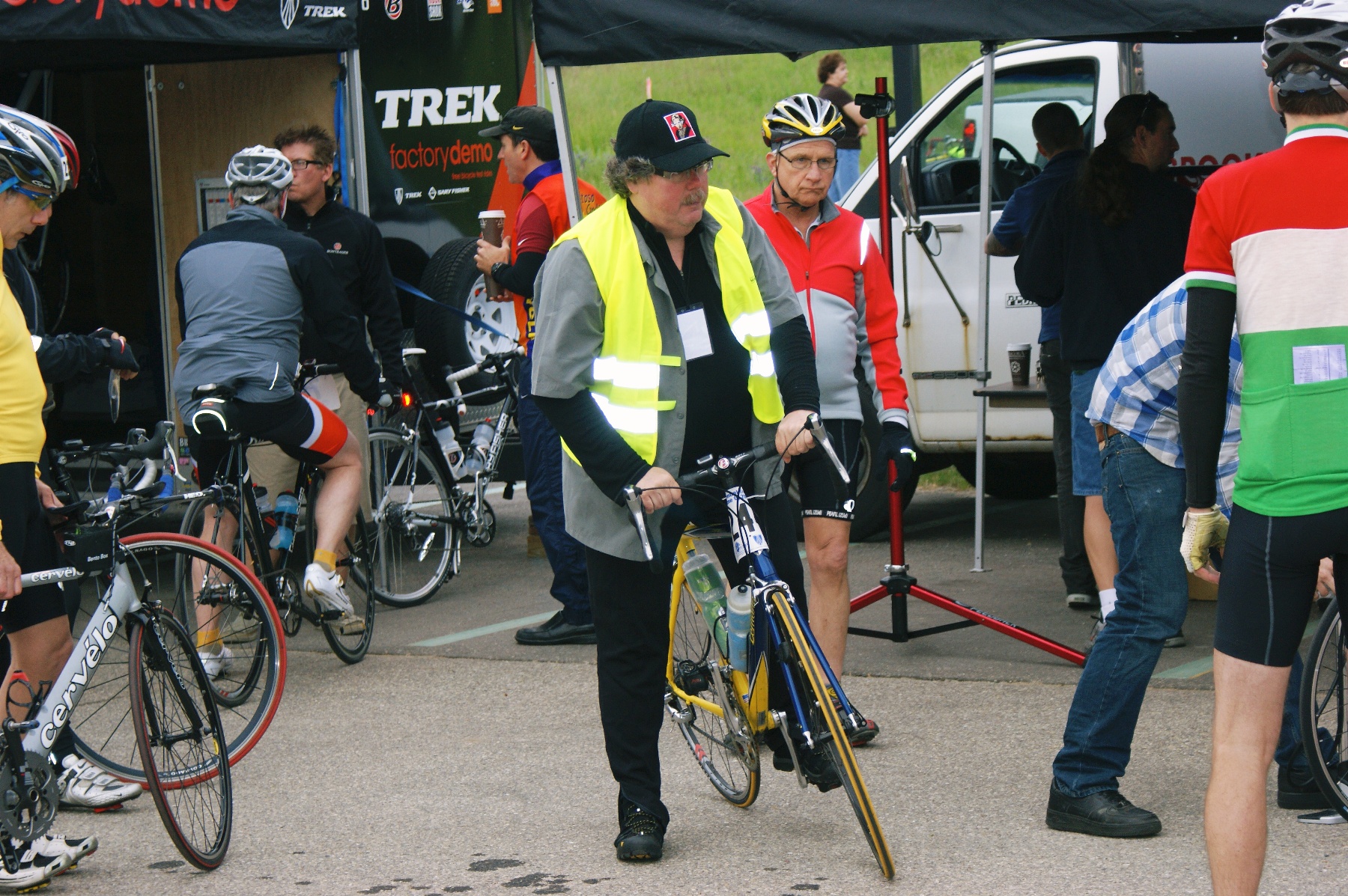 Sharon Madnek
I came to Wheel & Sprocket in 2003, somewhat ambivalent about my return to Milwaukee after living in NYC and abroad for 20+ years. Feeling sentimental about the recent loss of my father, I dragged the all steel road bike my Dad gave me at age 15 into the shop for an overhaul; it was covered in rust and in very sad condition. True to form, Chris and his team at the old Glendale location did what they could with the mechanics, but considering the time/labor costs, they sent me home with instructions to use a toothbrush and toothpaste to remove the rust from the wheel rims and spokes. Maybe Chris knew what I didn't know; that 15 years later, that old road bike was just a beginning. Getting it back in shape motivated me to get in the saddle and go. On that old bike, I discovered much to love about Milwaukee. I have a new, lighter bike now, and cycling has become a passion; Cycling opened up a whole new world for me...of friends who have become my rocks, best friends and more. Going into Wheel & Sprocket feels like reconnecting with friends, and I know that Chris sets the tone for that.
Justin Ninneman
This year was my first Trek 100 ride. I signed up for the 100 mile route but only made it to mile 78 (the pizza stop). I felt like my hip was going to bust out of my leg and decided to call it a day. SAG was called and Chris showed up. He explained to me that I really needed to get a proper bike fit (still on my list to do) and soon we took off in his personal vehicle. I felt defeated yet relieved because it was 100 friggin' degrees out –the AC and convo was nice. In so many ways he said not to beat myself up about it, that things happen... We meet new people everyday and it's easy for us to pick up on people's unique vibes. Some people go on forgotten while others have a gravitational pull that sticks with us. I'll never forget that time this summer, and look forward to making it across the finish line next year! Chris, all the best to you and stay strong!
Roger Vale
I stopped at Wheel and Sprocket while briefly staying in the area while on my way to a bike tour in Michigan. Chris was very friendly and even came out to check out the recumbent in the back of my car that I had picked up a couple days before in Minnesota.

Chris seemed very unassuming, we talked about business a bit and he gave me his cell phone number to call which I did about a month later, we talked about bicycle tours and he told me he and friends were planning a tour in New Zealand (if I'm remembering it correctly, it was about a year ago).

Chris, I hope things go well for you, Roger.
Chris Poepping
Where to begin. Chris and Wheel and Sprocket gave me my start in cycling industry. They also allowed me to race my bicycle while I worked for them.

Chris also gave me the ability to work many charity and week long tours around Wisconsin. The first tour I did was SAGBRAW during this trip he showed me how to straighten a wheel using a door jam. I have used this method a few times since. There are many other things Chris taught me about the cycling business. He has given countless selfless hours to our sport and recreation.

Always in my thoughts.

Love you and the Wheel and Sprocket gang.

Christopher Poepping.
Rick Snyder
Well I'm sitting at MKE, getting ready to fly home after spending the last 2 days with Chris. Kind of an emotional rollercoaster, but so glad I had the opportunity to come visit. It's funny, although I had the company of industry titans like Jim and Rhonda Hoyt, Mike Hamannwright, Archie Solski and Dave Hanson, and we sat around trading stories, as always, it was Kegel who floated to the top, like he always does, with incredible stories and insight, his usual calm demeanor, and typical Kegel grin, and sometimes it seamed surreal why we were here, cause Kegel, as always had us mesmerized. Chris, as always, your a great friend and mentor, and I'm pulling hard for you buddy.
Steve Fishman
Chris is a real diamond in our community.
I've been coming to the ride of silence slow ride ever since its inception.
Thinking of and respecting those riders that have succumbed to the automobile is really wonderful. I'm so glad that I could be part of this.
Thank you Chris
Barrett Ladd
Chris is a real diamond in our community.
I've been coming to the ride of silence slow ride ever since its inception.
Thinking of and respecting those riders that have succumbed to the automobile is really wonderful. I'm so glad that I could be part of this.
Thank you Chris.
Steve Halmo
I have known Chris and Wheel & Sprocket for many years, purchasing bicycles, parts, and getting advice to keep me and my bike on the road. It wasn't until I was working for the UPAF Ride for the Arts that I really understood the scope of Chris' commitment to the lifestyle of cycling. Over those years if it wasn't for Chris and Wheel & Sprocket, the Ride for the Arts would not have had the reputation as a great family-oriented ride. The support and friendship Chris provided was invaluable. There is one story though that I have to pass along regarding Chris. I was by myself setting up barricades on the north end of the Hoan Bridge at Lincoln Memorial Dr. and Michigan St. in the wee hours of Sunday morning prior to the ride. I noticed a cyclist on a recumbent riding through the intersection. It was Chris. He stopped and asked if I needed help. Before I answered he was off his bike and was helping me set up the barricades. He stayed until everything was in place. It may seem like a small gesture but it meant the world to me. Thanks Chris!
Lora Kaelber
Was lucky enough to have briefly worked with Chris at the Trek 100 Ride for Hope. He is one of the sweetest, most patient people. One of his many gifts is to inspire people to be better humans by being one himself.

Never forget when he took the time to swap out a cancer mom's clipless pedals so that she could ride more comfortably with her daughter to honor her son's memory.

But that's just totally quintessential Chris. Helping make the world better through peaceful, but powerful, action.

Thanks, Chris, for being you...every. single. day
Carmen Berte
I have never met you Chris but I'd like to share a story about how you and your motto---Life Is Short, Enjoy The Ride--- influenced me. As a child, I was more on my bike than not! But my Mom always knew I'd be home before dark because the consequences of not doing so would mean I wouldn't be able to ride my bike the next day, and that just wasn't an option for me! My boyfriend, who is now my husband of 42 years, and I rode our bikes everywhere together because we didn't have money for a car during our high school years. Our honeymoon was spent exploring Door County on our bikes, and over the years cycling was a part of each of our 3 children's lives as they grew up. Then cycling took a back seat to other "things" in my life, and it was put on a shelf for a long time, until later in my life when I decided something was missing-----my love of biking!! I bought a new road bike, joined a women's cycling group, The Bella Donnas, and signed up for my first triathlon at age 54! I fell back in love with cycling, and over the past several years have enjoyed many rides with The Bella's. After several months of training a few years back, I signed up for the Lakeshore Leukemia-Lymphoma Scenic 150, and attempted to ride 150 miles over 2 days in memory of my brother in law who died that year of lymphoma. The first day was amazing but right at the end of the 75th mile, I pulled a muscle and couldn't finish the second day! I was devastated, but felt good about what I had done--- ridden from Milwaukee to Manitowoc! Where do you fit in on all of this Chris?? Your motto and your zest for life, along with your ability to make people feel good no matter what, always stuck in my mind. Biking doesn't have to mean riding every day, racing, or going great distances. It means riding because you want to, you love to, and it makes you feel good! Thanks for instilling that in me Chris, and in hundreds of other people who may not be the fastest or be the fanciest bike riders, but they are out there having fun because -----Life Is Short, Enjoy The Ride❤️ God Bless you and your family Chris❤️
Drew Warner
Unlike so many others, I remember Mr. Kegel not as a titan of the cycling and outdoor sports industry, but rather as the the longest-tenured and most consistent quarterback for the Kegel family backyard football league. Those weekends at the Kegel house were some of my best memories from Wisconsin. Among other things, I remain grateful for Mr. Kegel's patience with my (ahem) unorthodox route running and questionable hands, targeting me over and over again, against his better judgment.

But more than anything else, I remember the energy of the house, and how welcome we all felt being there. It wasn't just the football games either. I think about the huge number of house parties, Packer games, you name it -- things that brought people together

So yeah, I don't know if I have a single "story" sticks out. But as I look back as an adult, I find myself marveling at how rare and wonderful it was to be around a man that exuded such warmth and made so many people happy. Mr. Kegel - thanks for helping us always feel at home, and for all the perfect spirals.

All the best,
Drew
Bradley
My thoughts and prayers go out to my friend and cycling legend Chris. If you've ever had the chance to cross paths with him you know how wonderful of a man he is. I've worked at wheel and sprockets headquarters after high school and a little during college. And every time I'm in Milwaukee visiting I make sure I stop in and say hello, and it's always a pleasure to sit down for a few moments to talk. Every time we end up talking about what I'm up to in life and about cycling. He's a great leader and a great person. He is hands down one of the best people I've ever had the chance to work for and has inspired me to pursue a career at trek of which I'm still trying for. Stay strong my friend.
Mike Trecker
I worked for Chis, Billy and Jerry at Hales Corners. I spent a short time on the sales floor but found my niche in the back of house operations, specifically shipping and receiving merchandise under the leadership of Jerry. One of the strongest memories of that time is of course my cartoon flight on a bike over the moon! What you say? Well you all know the great State Fair Park Wheel and Sprocket sale.....It must have been around '86 or '87 I think, and the crew was setting up the hundreds of bikes to showcase. My job was to drive the truck from the warehouse to SFP and deliver all of the bikes and repeat until done. It took some time but by the early evening we had a handle on things and we started to loosen up. Adjacent to the main bicycle show area, there was a BMX trick half pipe and ramp to ramp jump set up for the next day. Several of us took turns on the ramp to ramp feature, jumping with one of the mountain bikes nearby. I tried several times but kept catching my back wheel on the landing ramp. Well that didn't last long as I got fed up with what I thought was failure or just lame efforts. I committed myself to really going for it....Which I did! Big Time! I hit that first ramp with such pace that I launched......really high. I failed to really pull up on the handlebars at that point and went over the front end. Well Chris was there and looked over to see my head over heels about 8-10 feet in the air. With the fluorescent lighting as a back drop, I sailed, free of the bike, to an unfortunate, concussion inducing crash. I was out for a bit and the guys called the ambulance and my Mom. Woke up in the hospital amazed that I had launched off of the half pipe feature so high. "No dude, you didn't launch the half pipe, you jumped the little one." Me "What happened", Chris "You went off the jump", Me "That big one?" Chris "No", Me "What happened" Chris "You went off the jump" Me "That big one?" Chris " No. This went on and on providing much humor at the time. About a week later, when Frank was still running the cartoon in the Sunday funnies, there I was on a mountain bike, launching through the darkness of space, on the way to the Moon! Fun stuff, at least this far removed. Anyway, thanks for obliging. Chris, you did it right, you are the best and we'll never forget your place in the annals of cycling, Milwaukee and of course the family and extended family of Wheel and Sprocket. Thanks so much for all that you've done! Godspeed my friend!
Audrey Radlinski
I really got a great glimpse of Chris at Stephanie and Julian's wedding reception when he joined in the giant family circle and danced to "You are my Sunshine"... That moment was truly special to have him be a part of, so special in fact that when I saw him arm-in-arm with family smiling and singing, time slowed a little and tears welled in my eyes. I saw a jolly man who was just as described to me--- one that relishes in bringing a variety of people together and radiates joy from his soul... ... You make me happy when skies are grey ...
Melissa Putzer
The very first time I met Chris was years ago at the Trek Fall Color Festival. He was there giving of his time and I had volunteered to do a beginner women's clinic for mountain biking with Cindy Swift. It was cold in the morning and as I shook Chris's hand he commented "OH, you're cold!" He placed his other hand on top of my chilly one and said - "we'll have to warm you up!" So, Chris has truly always been a warm person to me, literally and figuratively. He's also the only person who I know that could help influence my very quiet, "I don't sing" husband to sing Christmas carols, when we at their Christmas gathering. Always a man of great influence and warmth that has made my world and the world at large a much better place.
Gigi
I sat next to Chris on the plane on the way back from the JDRF Ride to Cure in Death Valley, CA where he had once again generously donated his time to make sure our bikes were okay after being driven out there and that we had the support on the ride that we needed. Anyway I was a little intimidated/star struck sitting on the plane next to him for 4 hours! But in that time I heard things like "follow your heart and you'll never work a day in your life" and "there's no such thing as bad weather, just bad clothing...". It was the fastest 4 hour plane ride I had ever taken. His philosophy and wisdom mesmerized me. Fast forward a few years...every time I ran into Chris - at the theater, at a high school volley ball game, at the bike expo, at bike events - he always remembered my name and made me feel like he was genuinely happy to see me. He wanted to introduce me to his family. He wanted to know how my biking was going. I went from being intimidated being in his presence to truly enjoying running into and talking with him. Chris is absolutely one of the good guys! Thank you Chris for what you've done for the biking community and honestly for just being you.
Brian Conger
My first introduction to Chris was in comic form-- as a kid I was a dedicated weekly reader of the Wheel & Sprocket cartoon ads in the Sunday edition of the Journal Sentinel. When it came time to buy my first "real bike" I knew it had to be a Trek, and Wheel & Sprocket was the place to buy it.
The first time I met Chris in person was when I was in high school at a rest stop on the MS 150 Best Dam Bike Ride; Chris was filling up tires and making adjustments to event riders' bikes. Chris needed no introduction, as I quickly recognized him from the cartoon ads I grew up reading. At the time, I remember being amazed to discover that this childhood legend was so cheerful, humble, helpful and generous with his time. I have since come to realize that this is just the type of man that Chris is, and this is why he inspires the love and admiration of so many people.
It has been a true privilege and honor to work alongside Chris over the years, both at the Bike Fed and at BCycle/Trek. He always has a smile and encouraging word to say whenever I see him. I have learned a great deal from my interactions with Chris, and I've learned my most important lessons from watching him interact with people and consistently give back to the community. The way Chris lives his life is one that we can all learn from; in how he runs his business, loves his family, gives back to the community, and cares for people.
Chris -- thanks for your impact on my life, and for the incredible work you do for bicycling in the world! You are an inspiration, role model and it is a privilege to call you a friend.
Patrick Dean
I first met Chris about 30 years ago when he brought his car in for service at a dealership where I worked near his Hales Corners store. We struck up a conversation and he invited me to stop by the store after work for some XC night skiing. I remember being impressed with the hot wax system he had at the store ... we would wax up and head out the back door into Whitnall park for an hour or two of skiing with the deer and the star-filled night skies. What I remember most about Chris from all those years ago was that he was a gentle man. Simply kind. Simply friendly. Simply a good and easy conversationalist. Over the following decades, I'd get a new pair of skis or a new bike, and a few years ago I bought my 3rd recumbent from one of his always-helpful sales team. Often it would be years since I had seen Chris, but I'd always swing by the office and say hello if he were around. He'd greet me by name like I had seen him a week ago instead of several years. Remarkable guy. Always. They don't make a lot of people like Chris anymore ... legend is a strong word, but fitting. I wish you all the best because you are among the best I have been privileged to cross paths with ... no matter which way and what turns lie ahead, it is evident and true from reading all of these awesome stories about you that you will never journey alone. In that spirit, I am writing your name on my recumbent trike (discretely, just sayin') so that from this day forward, I too will never ride alone. All these years later, you're still great company. And always welcome. Spirit is a beauty, full experience. If anyone else is so inclined to write Chris's name (or mebbe just "CK") on their bike, feel free to write on before you ride on. With gratitude for your attitude, my continuing best thoughts to you and yours, Chris.
Michael Henszey
I met Chris and Jane at a bar in Door County in 1995. The first thing I said was "hey you're the Wheel and Sprocket guy." What you learn about Chris instantly is his folksy, funny, warm persona is not an advertising gimmick, it's 100% authentic Chris. I got to know him over the next 20 years and what can you say, the guy is an inspiration. He took his passion and didn't just make a business, he created a community that has touched countless people. He is someone that lives life to it's fullest and takes us all along for the ride. Thanks Chris!
Holly S
I have only had a few occasions to talk with Chris through my kindergarten neighbor, now Mrs. Mary Hanley Kegel. Mary and I were able to reconnect over the past year and I am so thankful because I have been able to learn so much about her incredible husband Chris.T hrough the sparkle in her eyes, I know Chris is a gem…to her a prince, a dream come true. I see how he changed her world and read amazing stories of how he has impacted so many and also changed theirs. My prayers go out to this man and to all those so close to him. May he be blessed with miraculous healing and be able to continue touching lives with hope and strength . The journey ahead will be a tough ride but with all the support and prayers of friends I read about ,I know he will have the encouragement he needs.

Live life ,ride on in faith and hope!
Amazing how many people are there beside you!
Colleen Moran - again
Today I found photos to illustrate my previously post. In classic Chris style, he left with the big group of Trek 100 riders on a road bike, then returned to Trek to ensure that the shorter riders got out safely. The third photo is of our President Jon McGlocklin talking with Chris in between rides.
Chris would give anyone the shirt off his back but maybe not on this day in June. BRRRRRRRR!!
Marty Zens
1980, maybe '81. Triathlon is in its infancy around Wisconsin. One, maybe two years of the phenomenon. With business and marketing foresight indicative of the future, Frank and Chris outfitted myself, Jon Antonneau, Jim Jaeger and Rich Jortberg with orange one piece tri suits and bikes for team efforts in Madison, Wausau, Menomonie, Waupaca and later Appleton events.

Yes, sales and marketing but, in long view, predictive of Chris' focus on bringing groups together to create and strengthen a culture, build relationships, allow for discovery, goodwill and opportunity for society and his vision.

The "Pumpkin Suits", as we became identified, drove us on our own little mission of self improvement, positive association with others, spirit building, and community. We were on an early wave of many waves Chris, his family and people created.

Outstanding business savvy and strength developed through day-to-day decision making, his reading list (please publish!), creates for us at its core, involvement, participation, and linkage. We are generously returned with advocacy, betterment, and connection. Thank you Chris and family for all this!
Bryan R Alexander
Chris I know the ride you and your family are on - may you have a loving great tail wind on this journey. Both my father and his brother (my uncle who was like a second father to me), have traveled the same route. I remember our first meeting in Hales Corners and the pleasant time we spend together. I recall sharing wonderful bicycling stories with you early on Saturday morning during the 2016 Bike Expo while you were on the Catrike checking out the inventory. Being a upright bicycle rider I can relate to your description of bicyclist's first experiences with 2 Wheeled Recumbents - it is extremely funny and accurate. My last comment to you as you rode off to continue your work was a bit of a tease. I said to you, "this ride around the building does not count if it was not recorded on Strava".
Jillian Imilkowski
The only thing I can say about Chris is that he is one of the kindest people I have ever met in Milwaukee. It's in his blood and DNA. He releases kindness every time he exhales. The very first time I met him, he looked me right in the eye, said hello. And when he asked me if I needed any help, I knew right away that he meant it. A huge part of why I ride my bike today, is because of his kindness. I wish I had a specific story to tell, an beautiful anecdote that sums it all up...but I just can't do it. There are too many to choose from. Chris, you are powerful and loving and good. Your friends, family and community are all better and stronger because of you. Please know that you are loved. Your legacy will go on for a long, long, long time.
Don Dziatkiewicz
Although I worked for Chris, first and foremost he is my friend. Big brother to Bill, who was in my grade at St Rita's, Chris was an influence on me as early as the first baseball practice we had for the West Allis rec league. You see, in those days, there weren't any parents involved, a captain was appointed from your class and you got together, practiced and went to the games. Chris came to our first practice and basically taught us fundamentals, it was either 6th or 7th grade.

Before any of us were married, parties at the Kegel's on 93rd street were legendary, that's all I'll say on that.

Chis wasn't just a cyclist. He played football with us for years, Fairview field, Sunday 10:00 AM. Monday night for much of the 90's was basketball night at St Rita's. Chris played basketball like he rides a bike, steady, one speed, but he was always moving. He didn't have any fancy moves, but give him the ball when he was open and it was 2 points.

Chris was generous to St. Rita's athletics, he donated the money when a new scoreboard was needed and for many years donated a bike for a raffle.

You know, I said I worked for Chris, but I never felt like I was working for him, just working with him, and that is probably the biggest influence he has had on me. I have managed the Brookfield store, bicycle and ski stores in Florida, and Laacke and Joys and it's how I have treated all of my employees, they work with me, not for me.
Laurie Heid
Chris, thank you for everything that you have done for the biking world. You are one of the kindest and most generous people I know and I am honored to call you my friend. I especially want to thank you for all that you have done for JDRF; from hosting kick-off and wrap-up parties, sponsorship, transporting our bikes and hosting the Canadian Rockies Challenge. If it hadn't been for you bringing those rusty old bikes for DeeAnn and I to ride, I probably wouldn't have ever got back in the saddle! I'm still working on calling myself a serious rider; for now I'm just a girl with two bikes and one butt! Who would have thought that after working 21 of our rides, I would have just participated in my 3rd Ride to Cure Diabetes! You and your dear family are in my thoughts and prayers through this difficult trek.
Kelli
Every Sunday as a child I looked forward to reading the Comics in the Milwaukee Journal. I thought it was really neat to have a local bike shop owner turned into a cartoon drawing to advertise his shop in a fun way. After all, riding a bike and cross-country skiing is fun, and what better way than getting that across to kids by making a comic of yourself?! The best part was many years later, going to buy a bike from them and seeing Chris - it was my first time seeing him as a human (non-cartoon) - but I new immediately it was him. Whomever did the cartoon way back when did a great job of drawing his fun-loving character perfectly!
Wendy Hanisch
My story is very simple. I met Chris about 27 years ago before I started working for different non-profits. We hit it off with similar life missions for life and he has been a great supporter ever since. After visiting him last week with my husband, Bob Hanisch, at the hospital following his surgery..it became pretty clear for me to adopt a new mantra for life: WWCKD! What Would Chris Kegel Do? I think that would get a heck of a lot of people getting on with their lives in a positive fashion. Thanks for the opportunity to contribute!
David Taggart
I'm a 15-year lymphoma survivor, and have been riding riding the Scenic Shore 150 every year since 2004, in support of the Leukemia & Lymphoma Society. After riding solo the first year, we purchased a recumbent tandem so my wife and I could ride together, and it's been the centerpiece of our summers since then. Chris supports the ride by offering the W&S truck and mechanics, and many years he is wrenching along with everyone else, in addition to "working the crowd" and being a warm & encouraging presence.

In 2011, about 2 weeks before the Scenic Shore, our beloved Double Vision tandem had a frame failure, and we were crushed to think we might miss the ride. I was taking the frame around to welders, hoping someone would offer to repair it, but got the "I'm not touching that" response from all. My last hope was that someone at the Hales Corners W&S would be able to work a miracle. The staffers were commiserating with me about the lousy timing and severity of the bike's "injury" when Chris stepped out of his office and said, "You should talk to my friend Charlie – he has a bike just like yours, and he's not using it right now." Thanks to Chris and Charlie, we were able to complete our Scenic Shore for 2011 without missing a beat.

Chris' ability to be in the right place at the right time FOR OTHERS is, I think, really just him setting an example: paying attention, listening, and offering whatever he can to any situation. I'm grateful our paths crossed. Thanks, Chris!
Amy Pfankuch
Though I don't have a Chris Story, I have enjoyed biking the Best Dam ride four times with my family.
Love and prayers to you, Chris, and your family, from your Best Dam family.
Carla Laing
I met Chris through the JDRF Ride to Cure Diabetes program. He was so vital in the development of that program and a supporter in all aspects. I know my job would have been so much harder without his experience and kindness on my side. My husband and I have spoke of Chris often over the years and just remember how he was "one of the good guys". Always there to make everyone as successful as they could be. It was a privilege to have worked with him in those early years and I have loved watching his involvement continue and the ride program explode over the past 10+ years.
Tad Hylkema
The only thing I can add to all these wonderful stories, and the only thing that is better than Chris' smile, is his handshake. Although we have only met a few times over the decades, every time we did meet I was welcomed with that great smile and that warm handshake. Not just courteous but truly welcoming, no matter how busy you were. You never made me feel like I was "just a sales rep." Thank you.
Mike Van Abel
Hi Chris - I am thinking of you often. And can not help but think of what a privilege it was to have you as an IMBA board member. Your business accumen is matched only by your great comedic timing and sense of humor. IMBA's board did a lot of hand wringing and wrestling with our desire to build our capacity back in my early days - 2004. I will always cherish your logic and your pragmatic approach. And just when things would get a little tense, you'd have a great story, often with both a lesson to be learned and applied, as well as a laugh. I remember our first board planning retreat in Whistler - you blew me away with how game you were to armor-up and take on the big flow jumps with the big hit bikes. I hope you know how much you did to advance mountain biking via your IMBA board leadership. I am forever grateful to you. I appreciate you. I am coming to a Packer game at Lambeau next month and would love to stop by to say hi. Until then, I will think of you daily. God bless you.
Pat Davidson
One of my most vivid memories is first meeting Chris and his family at the 2005 Death Valley JDRF ride. Mostly I remember being impressed with how hard they all worked and how easy they were to speak with especially for a newbie rider. Chris was working on bikes, repairing what needed repair and never complaining, working late into the night. Always being supportive and friendly to all of us. I also remember staying out late at the hotel bar playing pool and Julian was always part of the mix!
Bob & Marilyn Jacobs
On one of the earlier Saagbraw rides, Bob's rear cluster fell off in the middle of nowhere. We didn't know what to do, but remembered there was someone behind us that seemed to know how to fix bikes. It turned out to be Chris. When he caught up to us, we asked for help. (There was no W & S sag at that time) He took the s hooks holding my license plate and reattached the cluster. I was good to go. We were so grateful.
Charlie Koenen
Hey Chris, you've been a blessing to my life for more than 20 years. In the early 90s, in a previous incarnation as a graphic designer, I was introduced to you through Kristin Branch (Geier) and together we collaborated creating the Fall Color Festival, Metro Mountain Bikers group and launching Recumbent Headquarters. Then like many, I started helping at an Expo... it was there I really began to understand the Kegel Zone… a space I now strive to live in every day. Years later you posted this graphic and it summed up that special place where you shine like a star, that want to follow.

You are a living example of how to exist in the nucleus encompassing career, vocation, passion and charity… A place that fuels satisfaction, contentment, fulfillment and obviously, because your your affection for recumbents, comfort. In this Kegel Zone, you provide what the world needs, and do it well. You love what you do and people are willing to pay you for that energy. So like the nucleus of a cell, your energy attracts others and grows a larger community. Wheel & Sprocket, the organism you've brought to life, like your own children, is diverse, vibrant, creative and self sufficient. It sets the standard… A standard many appreciate, emulate and will celebrate beyond today.

I've tried to model my life in the Kegel zone, but with Bees rather than bicycles in that center. It was our countless adventures cycling 80 miles a day from Mequon to Hales Corners as I helped with graphics and signage in the catacombs of the Hales Corners store that I cherish most.

Each morning, catching up with you on Port Washington Road, then slow riding some 40 miles through dozens of neighborhoods and communities to the Hales Corner Store. We'd talk about bicycle access lanes, crazy drivers, new cycling inventions, upcoming events and connect with so many people along the way. Slowing down and observing life at pedestrian speed was amazing.

You'd been riding for years so that 80 mile round trip was easy for you, but boy they were my "kegel exercises" and did I have trouble getting used to them. At night we'd ride back, often in the dark, talking about world issues, social problems, urban challenges and politics. We'd stop for sushi or discover an event along the way worthy of participating. Those not only strengthened my legs but also my perspective. I learned to understand how to live in the Kegel Zone while riding from neighborhood to neighborhood to get to my country home. Witnessing your generosity, compassion, insight and perspectives molded my vision for right livelyhood. Eventually my legs became so strong, they went on autopilot, especially on those secluded roads in River Hills where our conversations were the only sounds besides the chain rollers on our recumbents.

The wisdom of those "Kegel Exercises" and the lessons learned watching you live in the "Kegel Zone" serve as a living legacy to me and I'm sure many others. I wish you peaceful resolve in all the rest of your days knowing how special has been your impact to so many people. I love you Chris.
Sherie
I met Chris in 1993 or 94 shortly after I started working in the Marketing Department at Trek. I was assigned to work on a new event in the Kettle Moraine, the Fall Color Festival. My knowledge of events, mountain biking, DNR and the industry was completely new, meeting and working with Chris Kegel of Wheel and Sprocket was so intimidating! But after the first time we met Chris put all my fears to rest. He was so kind, he guided, he listened, he respected and he taught me. Even when mistakes were made he used the opportunity to troubleshoot with you to help find the best possible solution, always calm, composed and a smile on his face.

Regardless of the place or situation; FCF, Expo, InterBike, Trek World - you could always count on a friendly face and great hug from Chris.

Over the years I had the pleasure of meeting and working with each of his children, always thought what lucky kids they were - Chris not only adored them, he respected them for the individuals they are and you could feel their mutual love for him. I feel pretty lucky to have watched them grow into such wonderful adults.

From day one I respected Chris, over the last 20 years my respect, admiration and love has grown for him and his entire family beyond what words can express.

Lots of love!
Dick Zielinski
I first met Chris back in the late 70's when I finally upgraded my ride to a Trek. This was at the old store on Forest Home. Over the years Chris was always available for advice on getting more bikes & equipment for the family and later we even picked up our XC skis from him. After Chris moved out of the Hales Corners home in the next block from us, I was lucky enough to meet up with him occasionally at the store or at the State Fair. He always had a ready smile and asked about my kids. Best wishes to him and his family.
Catherine Gruen
I bought my first road bike at the Wheel and Sprocket Expo 20+ years ago, and thought is was such a cool event that I came back the next few years and worked at it. I still remember i was working the kids bike area and Chris actually came up to me to say thank you for doing such a nice job. Funny how such a simple jesture leaves such a lasting impression. I started participating in the JDRF Ride to Cure and joined the Milwaukee chapter riding in Death Valley from 2003-2010. It was fun to be able to touch base with Chris to get a friendly hello, hear stories about his family, even share a drink at the Death Valley bar. I remember one year when Chris decided to ride his bike from Las Vegas to Death Valley instead of taking the bus, how crazy I thought that was. But the most memorable story I have of Chris was when I was able to sit next to Chris on the plane flying back to Milwaukee from the 2007 Death Valley Ride. Chris told me the story of how Wheel and Sprocket got started. Chris told me about the man (forgot his name)who initially sold cars but then decided to sell bikes bikes. Chris started to work for him and told him the store would not be successful unless they were honest, sold reliable bikes and gave exceptional customer service. Following Chris's advice, the owner changed how he did business, the store flourished and Chris eventually took over the store.. and Wheel and Sprocket was born (sorry if the details arent exact but this is what i recall). It is quite obvious that Chris has continued to live his live and run his business this way...be honest, be reliable and give service. Thank you for all you have done Chris. And may you feel the strength of 1000 riders pedalling up Jubilee Pass in the next few months.
--